Harry Potter Cast
The Harry Potter cast has to be one of the greatest assembled of all time for a move franchise.
I mean, what other series could boast the "cream" of British acting talent.
Even more than the excellent American franchise Star Wars or even the wonderful multi-national production of The Ring, the Harry Potter movie series has been able to procure the very best acting talent.
With a combined personal net worth of 96 million pounds for the three main actors in Daniel Radcliffe, Emma Watson and Rupert Grint alone, you can see that Warner Bros are indeed serious players when it comes to organizing the talent pool.
It's often said in life and business, if you "pay peanuts you get monkeys".
There was certainly no skimping on the payroll here.
It's more a case of "when only the best will do".
---
Don't forget - This site is about YOU! You can make your very own Harry Potter Story Page here...

Harry Potter Cast Owlpost
And if you want to get great Harry Potter info and keep up with what we're doing enter your name and BEST email address below then just send the Owl on its way... 

---
It's not really the money though so much as the depth of talent.
Besides the three central child actors playing Harry, Ron and Hermione you have a raft of actors who have "trod the boards" in esteemed theatre companies across Britain.
For example, the following Harry Potter actors have all worked in England's prestigious theatres:
Richard Harris;
Michael Gambon;
Kenneth Branagh;
Alan Rickman;
Emma Thompson;
Miriam Margoyles:
Dame Maggie Smith;
Ralph Fiennes...do I really need to go on???
What this brings to Harry Potter is believably, faithful performance and naturally, excellence.
It's the combined talents that shine through the silver screen right into our hearts and that makes for a high degree of satisfaction.
Even many normally 'sour' movie critics have become ardent Potter fans over the journey of the eight movies.
There are two salient reasons though I think the performances were of such high quality.
Firstly, having such a great cast, which was widely publicised in the media, meant that each individual actor felt the pressure to 'keep up', as it were.
I remember reading where Daniel Radcliffe was really nervous with his scenes with Gary Oldman who is one of his great acting heroes.
Daniel really wanted to "pull this acting caper off" in the eyes of his hero and so pulled out all stops to make it so.
The other major reason the Harry Potter cast wanted to do so well is that they didn't want to disappoint the children all over the world who took the Harry Potter books to heart and were eyeing off all performances with an eagle eye.
Can you imagine the actor that would be remembered for all eternity for putting in 'dud' performances in the job of a lifetime as a Harry Potter actor?
It would be as bad as a 14 year stint in Azkaban!!!

Seriously though, you would want to be on your mettle as these books and movies will be around for a long time.
I actually wonder what they will think of them in a hundred years time.
Will the performances be laughable like some of the old black and white movies from the 1930's, 40's and 50's?
Although there are still many great performances from then a lot of the movies from that era just seem so 'lame' by today's standards.

I don't think that the Harry Potter cast will be looked upon as lame but you never know as trends and values change over time.
I'm pretty sure we'll always hold Harry Potter close to OUR hearts at least, and hopefully we'll all be around for a long time to come!
See the other side of the Harry Potter cast here...
Go here for some specific information about Daniel Radcliffe...
Go here for some specific information about Emma Watson...
Go here for some specific information about Rupert Grint...
Go here for some specific information about Helena Bonham Carter...
Go here for some specific information about Tom Felton...
Go here for some specific information about Alan Rickman...
Harry Potter Cast - Special Memorabilia!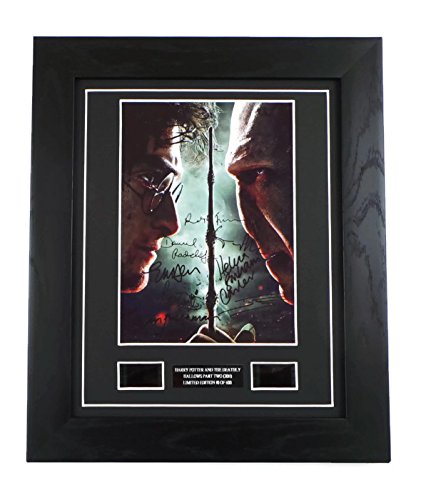 Click to buy this Special Memorabilia...
For more on the Harry Potter Cast click here...
Searches Related to Harry Potter Cast