Tom Felton
Tom Felton is almost the opposite of his character in Harry Potter - Draco Malfoy.
It's quite amazing to see him in an interview smiling, being charming to the reporters and the like when you contrast with the brooding, often sullen character of Draco.
This is especially so in the latter movies.
I think it's a testament to Felton's acting ability that this is so.
Every time I see a good actor I've noticed that you can't actually see them acting.
Their performance is usually seamless so that you don't see them in the act of acting, so to speak.
Some good ones are of course Johnny Depp, Robert De Niro, Sigourney Weaver and Meryl Streep, just to name a few excellent ones.
Now I'm not saying that Tom Felton is in their class just yet, but I think he's taken giant strides over the last ten years to improve a hell of a lot and become a very proficient actor.
---
Tom Felton says - Join the Harry Potter Owl Post! 
If you want to get great Harry Potter information and keep up with what we're doing enter your name and BEST email address below then just send the Owl on its way... 

---
Another one is Russell Crowe for example.

Gladiator and L.A. Confidential are examples in which he was brilliant.
Felton was pretty good in the earlier films such as Philosopher's Stone and Chamber of Secrets, but I thought he was at his best in Half Blood Prince and The Deathly Hallows, but especially Half Blood Prince.
Here's a video of Felton in an interview about the Half Blood Prince showing his trademark 'jolliness' and conviviality...
As you can see in the video, Felton is thinking seriously about continuing his acting career into the future and I'm tipping he'll make a good fist of it.
He can certainly be encouraged by the response of both movie critics and fans' thoughts of his performances, especially in the last two movies and is almost universal...
"Felton shines in his all too brief scenes as Draco Malfoy The only disappointment when it came to the young stars was that Tom (Draco Malfoy) was not given enough time on screen, a real shame given his fantastic performance in Half-Blood Prince"
"I was propped up by Rupert Grint and Emma Watson, Felton and the wonderful Evanna Lynch."
"Felton did a great job as Draco"
"Loved this movie, best in the series so far. It had the perfect mix of comedy and story line. It was well balanced, interesting the acting was very good. Especially from Felton (Draco Malfoy) and Jim Broadbent."
"Firstly I have to say the film is entertaining. Draco (Felton) portrayed his character very well and it was a nice change from his normal bullying personality."
" Also the performances were great, in particular Jim Broadbent and Tom Felton was also impressive."
"Felton's Draco was wonderful, and finally Harry got to play a bit as a personality."

Tom Felton/Draco Malfoy Stand-Up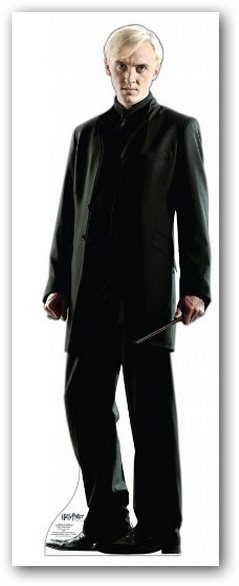 And here's something fun! It's the...

"Behind the Bricks: A Tour of Diagon Alley™ with Tom Felton and Matthew Lewis Replay"

Searches Related to Tom Felton