Alan Rickman
I first noticed Alan Rickman when he played German terrorist Hans Gruber in the movie "Die Hard" with Bruce Willis in1988.
He was a standout because of "that" voice and, of course, his great acting ability.
As good as Bruce Willis was the movie wouldn't have been half as good without Rickman.
In fact, Die Hard was the movie that really gave Rickman his big break in Hollywood films.
That fall from the Nakatomi building is a now famous stunt in all of Hollywood history...
Most Harry Potter fans would be unaware of Rickman's long history in British Theatre performing many difficult Shakespeare roles with consummate professionalism.
Indeed, just some of his stage works are:
The Seagull,
The Grass Widow,
The Lucky Chance;
The Tempest;
Love's Labour's Lost;
Antony and Cleopatra;
Captain Swing;
Troilus and Cressida;
As You Like It;
Mephisto;
Les Liaisons Dangereuses;
Antony and Cleopatra.
It's no wonder Daniel Radcliffe, Emma Watson and Rupert Grint were overawed by him!

---
 Alan Rickman says...
Join the Harry Potter Owl Post...Now! 
If you want to get great Harry Potter info and keep up with what we're doing enter your name and BEST email address below then just send the Owl on its way... 

---
Update
Excerpt from...
https://en.wikipedia.org/wiki/Alan_Rickman#Illness_and_death

"In August 2015, Rickman suffered a minor stroke, which led to the diagnosis of pancreatic cancer.
He concealed the fact that he had terminal cancer from all but his closest confidants. 
On 14 January 2016, Rickman died in London at the age of 69. 
Soon after, his fans created a memorial underneath the "Platform 9 &3/4" sign at London's Kings Cross Railway Station. 
His death has been compared to that of David Bowie, a fellow English cultural figure who died at the same age as Rickman four days earlier, also due to an existing cancer that had been kept private."

JK Rowling said that she really wanted Rickman for the role of Severus Snape.
She could see him playing the part clearly in her mind, probably as clear as she saw Robbie Coltrane as Hagrid.
Rickman is also a dab hand at comedy if you didn't know.
I think he's at his comedic best in a film called "Galaxy Quest"
"The dialogue is brilliant - you'll find yourself quoting from this film regularly.
The acting is marvellous.
Tim Allen doing William Shatner doing a Heroic Spaceship Captain is worth the rental all by itself, not to mention Rickman's memorably dry performance as the I-Am-Not-My-Strange-Looking-Alien character."
You can watch "Rickman in the trailer here"
But back to Alan Rickman as Snape.
From the beginning he was the "ultimate Snape".
Dark, brooding, measured in his approach and all the while seeming to have a secret agenda.
You actually never know whether he is on the side of right or the dark side.
He seems to be like one of those "Cold War" double agents of the 1950's and 60's operating out of Britain e.g. Kim Philby et al.
It is revealed in the Deathly Hallows which side he is ultimately on but I won't 'spoil' here in case you were perhaps hiding under a rock over the last ten years and don't know :))
He is always nasty to Harry and his fellow Gryffindor's.
Only Dumbledore seems to trust him completely. You know Voldemort doesn't really trust him but he trusts no one anyway.
It must have been fun for Rickman though playing such a conflicted and secretive character.
It adds interest because everything's not revealed and so, to the viewer, he is more mysterious.
Alan Rickman has earned the respect of all movie going generations, not to mention theatre goers everywhere.
I think he is safely ensconced in the list of Britain's greatest actors of all time.
If he isn't he should be! :))
Here's a great YouTube interview with Rickman... 

Deathly Hallows - Snape Poster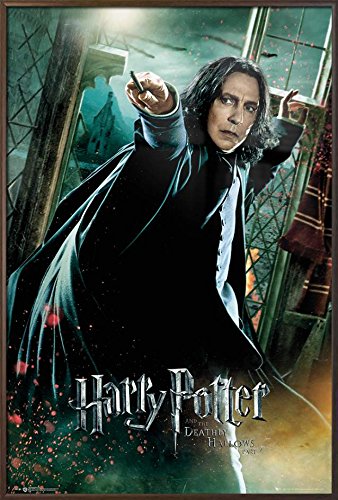 For more about Alan Rickman click here...
Searches Related to Alan Rickman Harry Potter
alan rickman harry potter character