Helena Bonham Carter
Helena Bonham Carter has been in consciousness for over 30 years now and has delivered some very fine acting performances indeed.
Although to the young generation she is known as the "delightfully evil" Bellatrix Lestrange, older fans of Harry Potter would remember her as far back as 1985 for her portrayal of Miss Lucy Honeychurch in 'A Room With A View.'
I remember that film was very big that year and Carter really made her presence felt in the acting world.
It's like that with most of the Harry Potter cast in that there are many well-credentialed actors.
As I've said on this site before, it's one of the main reasons I believe, that the Harry Potter movies have been so successful.

---
Don't forget - This site is about YOU! You can make your very own Harry Potter Story Page here...

Helena Bonham Carter Owlpost
And if you want to get great Harry Potter info and keep up with what we're doing enter your name and BEST email address below then just send the Owl on its way... 

---
Born in 1966 and only a diminutive 5 foot 3 inches, Helena Bonham Carter "packs a heavy punch" though in regards to her acting talent.
Perhaps it's due to her "acting genes" and it's all in the blood.
Indeed, her Great Uncle, Anthony Asquith was quite a famous film director who made celebrated film versions of Pygmalion and The Importance of Being Ernest.
Here is Helena Bonham Carter talking about her role in the last Harry Potter film Deathly Hallows Part 2... 
Over the years Helena Bonham Carter has been involved in many fine movies with many fine actors.
In recent years she played the Red Queen in her husband, Tim Burton's movie version of Alice in Wonderland.
She turned in a wonderfully outlandish performance alongside Johnny Depp and her Harry Potter colleague Alan Rickman (Snape).
Unfortunately, she has been in some "stinkers" such as the 2001 movie Planet of the Apes.
It was really disappointing because as a child I really enjoyed the original series with Charlton Heston et al.
It was a great film for kids and fired your imagination, much in the way Harry Potter does for children these days.
But we'll forgive her one "stinker" as she was so good in Harry Potter that she's more than made up for it!

Indeed, she's been nominated for an Oscar, 2 BAFTA's and 4 Golden Globes so she must have some ability!
All this is quite impressive but the strange fact is that Carter often can't stand seeing herself on screen at all.
In a 2010 interview with Scotsman.com she revealed whilst talking about Planet of the Apes...
"In my first conversation with Tim, he said: 'I don't know you but you were the first person I thought of to play a chimpanzee,'" she says.
He had this hunch that I like to cover myself up. He was absolutely right. 

It's always such a relief not to look like me.
That's why I got into acting, to escape me. And that's the frustrating thing with acting.
You think you're losing yourself, being somebody else, changing your identity.
Then you look at the film and think, it's still me. 

She loathes this feeling so much she avoids watching herself on screen.
I hadn't seen Alice and had to dub it. I thought, this isn't so bad. Usually I get really depressed when I'm dubbing something, but it was OK because I don't look like me.
Why doesn't she want to look like herself? 

Johnny does the same thing, she muses of her co-star Johnny Depp, who she and Burton jokingly refer to as the director's first love.
I know we're both in it to get away from ourselves. We've got a healthy amount of self-loathing I guess, which sparks the whole escapism thing..."
Isn't it amazing that someone so talented and seemingly has it all feels that way about themselves?
But I suppose I'd rather her that way than some of the egotistical, self-centered actors that are always trying to grab the limelight and attention.
At least after her career's finished Helena Bonham Carter can look back with satisfaction and pride at a great body of work which brought so much pleasure to people all over the world - especially as Bellatrix Lestrange in the Harry Potter series!  

Helena Bonham Carter Poster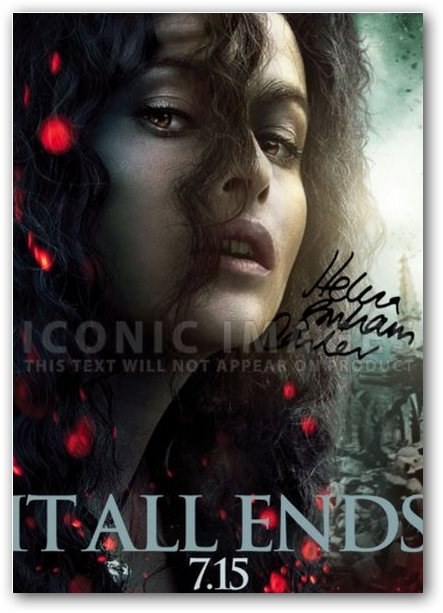 For more information on Helena Bonham Carter click here...
Searches Related to Helena Bonham Carter

helena bonham carter harry potter
helena bonham carter movies and tv shows
helena bonham carter net worth