Un adulto enamorado de la saga de Harry Potter
by Juanvi Vayá Climent
(Alzira (España))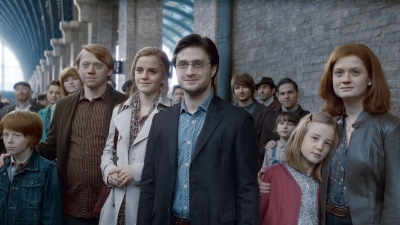 Harry Potter se casa con Ginny Weasley
Hace 12 años cuaano ví los primeros trailers en Youtube acerca de la posible saga que se acercaba, me fue maravillando, entonce puse en marcha la maquinaria para hacer un blog como Harrypotteros y de esta forma estar siempre al día de todo cuanto ocurría, compré libros, películas, fuí fanático y arrastré con ello a mi mujer, sobrinos y familiares. Hoy en día me siguen fascinando todavía mucho

Translated to English as:

12 years ago I saw the first trailers about the possible saga approaching. I was marveling, I launched a blog like Harry Potter and thus stay up to date with everything that happened. I bought books, movies, I was fanatical and thus dragged my wife, nephews and relatives. Today I still continue to be fascinated by Harry Potter.
Join in and write your own page! It's easy to do. How? Simply click here to return to Harry Potter Story.