Thanks, Harry.
by Bea Evans.
(Recife, Brazil.)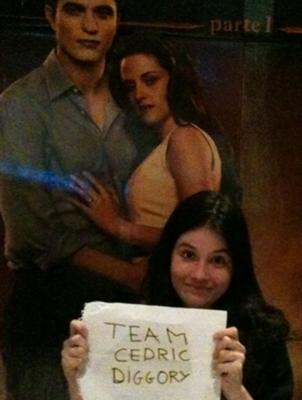 I was around four years old when Harry Potter and The Philosopher's Stone was released in Brazil. My mother took me to watch it for the first time. It was magical. Since then, Harry Potter has been a huge part of who I am today.

I'm fourteen years old and I don't how I would be without Jo's creation. It means the world to me. Growing up with Harry Potter gave me the best role model a girl could ask for. I'm not talking about Hermione or Luna, even though they're both amazing and have taught me a lot, I am talking about Lily Evans-Potter. That's right, Harry's mum. Ever since I read OotP, she's my favourite character. Every single day I try to be as brave and wonderful as she was.

The series was there for me in the best and worst moments of my life. When my parents got divorced, when my grandma died, when I was lonely at my new school... And every time I'm sad, all I do is read Harry Potter and everything gets better. It is a world where I go when my world is falling apart.

My favourite book is Harry Potter and the Order of The Phoenix. When I read it for the first time, I was having suicidal thoughts, and I was feeling awful, but the book made everything better for me. I don't have words to describe how thankful I am for that.

I also made incredible friends in the Harry Potter fandom, people that will be with me for a long, long time.


Thanks for being part of how I am, Harry. Thank you, thank you, thank you.