My owl from Professor Maurice
by Roz
(Sydney,NSW,Australia (but I wish I could say hogwarts!))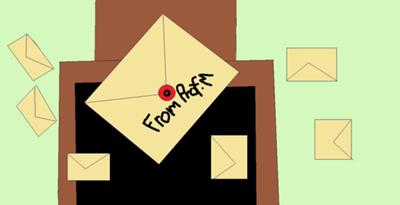 Firstly I have to say I wouldn't have known about Harry Potter unless Professor M read them to me, It was like a whole new world opened up!(Actually it did!)

Luckily for me my mum had a copy of the first book so I could get hooked on straight away and at some points I felt like she wrote HP for me, but I bet I'm not the only one who says that!

Besides becoming a big book worm, I started to understand how other people think and I could relate characters from the book to people I knew (I had a few Gilderoy Lockharts!) All in all it definitely made me more confident with speaking to others.

My favourite book is the fourth but sadly I found the movie a bit boring, it just wasn't as good as the book so I was pretty disappointed about that.

In the last movie my favourite bit was when Snape died not because I didn't like him and I wanted him to die but because it explained a lot about him and the way he acted towards Harry. It was the last piece of the puzzle. My favourite line was when Neville said "Yeah, you and whose army?"

I remember watching the first three movies and my parents making me wait ages to watch the last one's because they were rated M but eventually my parents gave in and I caught up to everyone else. I was so excited when mum said she'd rented the Goblet of Fire from the DVD shop!

Then that collectors set came out with the Sunday Telegraph and I had to make sure I had everything posters, post cards and of course the wands! I also got a Harry Potter show bag from the Easter show that was very handy to have.

Thanks Professor M for letting me share my story, Then again I wouldn't have one if it wasn't for you!

P.S. I know everyone calls you Mr. M but Professor M seemed more appropriate for the occasion!